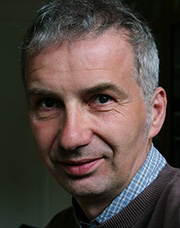 Welcome!
On behalf of The Group for Primary Aquatic Productivity, I have the pleasure of inviting you to attend the 10th GAP Meeting in Třeboň, Czech Republic.
Recently, many new "omics" analyses have emerged and many have become routine. We can obtain (semi) quantitative information on community taxonomic composition, gene expression profiles or community metabolic activities. We are able to widen the analysis from the level of communities to single cells. The GAP Meeting 2017 will bring you to the experiments where detailed analyses of processes relevant for aquatic primary production – including the "-omics" techniques can be used in studies of natural freshwater environments with contrasting trophic levels (oligotrophic water reservoir and hypereutrophic fishponds) and of controlled laboratory, single-species experiments (high-productivity algal bioreactors).
We will all meet in the heart of european freshwater fishery, The protected landscape area of Třeboňsko, where the base of hydrobiology was laid in 15th century, when the first fishponds were built and later a unique water system was created. Algae research on a scientific level started in Třeboň in the early sixties and now several research institutions work on hydrobiological topics together. Three of them participate on this Meeting. Centre ALGATECH of Institute of Microbiology is the organiser and two groups will meet in its laboratories. ENKI and the Institute of Hydrobiology are partners and they will supervise field visit on the reservoir and fishponds.
I am looking forward to see you in August 2017 in Třeboň and I hope you will enjoy your stay.
With best regards
Prof. Ondřej Prášil, Ph.D.
Head of the Centre ALGATECH

DOWNLOAD GAP 1ST FLYER
The 10th GAP Meeting is on!
Dear colleagues,
It is a great honour to invite you to the 10th GAP International Meeting that will be held in Třeboň in 19th - 30th August 2017. All information will be continuously updated, so stay tuned to our web pages.

New supporter of GAP 2017
We proudly present our new supporter The International Society of Photosynthesis Research (ISPR). The Society was founded August 22, 1995 by ratification of its Constitution at the Xth International Photosynthesis Congress in Montpellier, France. The Society plays a key role in uniting the photosynthesis research community internationally. More ...
© GAP 10th International Meeting